About 100 years ago, in a small town in a galaxy far away …
I was actually a crime reporter.
No, I didn't wear a fedora, I didn't keep 20-year-old bourbon in my desk drawer and go through a carton of cigarettes a day. I wasn't particularly hard-bitten, but yes, I actually was a crime reporter. Fascinating stuff sometimes. Depressing some days. Scary other days. But, fascinating most days.
There was a weird crime I got involved in, actually more than a real reporter is supposed to. I didn't have any food at home, so I ordered a pizza from a local take-out place. This really was a small town in the Pacific Northwest, so this kind of funky take-out place also had movie videos (No DVDs yet), CDs, beer, groceries and gas.
I pulled into the parking lot and some guy peeling out the parking lot nearly nailed me. OK, that was weird, I thought. I walked in and it got weirder.
Two people were lying on the floor of the store in puddles of their own blood. One was a young woman, the other an older guy. I thought at first they had been shot. I found out no one had called 9-1-1 and I made the call to the police. Other people tried to stop the bleeding. The woman was shrieking hysterically. The cops showed up about two minutes after I called.
Here's what had happened. Some kid had tried to buy beer. When he wouldn't show his ID, he went completely monkeyshit on the clerk, a 19-year-old girl. He beat the crap out of her, then when a 60-year-old guy tried to intervene, he beat the crap out of him, too. People told me the guy was literally stomping the poor guy in the head with his boot. Then, the bad guy peeled out of the parking lot, sans beer. That's the guy who almost nailed me.
The two people were loaded into ambulances. They were hurt, but not as bad as it looked. The older guy had a broken nose and broken cheekbone. He had to undergo a couple of surgeries. The young girl just a bloody lip and bloody nose and black eye.
They didn't catch the guy. OK, this is how weird things get at small-town newspapers. I was a material witness. And I'm the one who called 9-1-1, but I actually had to write the article about the incident. Totally unethical. I talked to my editor about how weird it was, but he shrugged his shoulders. Obviously to him, it wasn't all that weird. That's small-town journalism. At a real newspaper, I would've been pulled off the story. It ran at the bottom of page 1.
Well, a couple of days later, there was another weird incident. Someone got in a verbal altercation at a local mini-mart and the "perp" chased the other guy, who was an all-conference linebacker at the high school getting some serious attention from UW and WSU (He eventually played at Western Washington Univ.), down the street as he tried to drive away,.
The suspect literally punched through the driver's side window, pulled this 225-pound all-conference linebacker out of a moving vehicle and beat the crap out of him in the middle of the street.
A few days later another incident. The cops got called to a domestic dispute at a trailer. They arrested the guy and it apparently took five or six cops to subdue him. They peppered sprayed him, and after a lot of struggle, got him in cuffs and dragged him off to jail.
It turns out all three incidents were by the same guy. I went to his preliminary hearing, because I thought this was bizarre. This guy, who was HUGE. He was probably about 5-foot-10 and I'm guessing weighed at least 250 pounds, had assaulted a total of six people, including two cops, within a week. One person, the 60-year-old hero in the pizza joint, was still in the hospital. At the hearing, where bail is set, the guy got up before the judge and said something I will always remember:
"It wasn't me, judge. It was the steroids."
I thought, huh? I dug a bit. It turns out the guy, who was only 19, was a weightlifter and had been a wrestler on the high school team, and took a boatload of steroids as part of his weightlifting regimen. I started some research, and found out there really was something called "'roid rage."
Now, since then, I've heard that "Roid Rage" is a myth, but I read the police reports on this guy. He was acting like a complete lunatic. Based on that case and others, I think it's a legitimate phenomenon.
The guy eventually skipped bail, got tracked down in Arizona and did 18 months for his various crimes.
Fast forward a few months later. Some players on the high school football team got busted for drugs, DUIs, etc. Some of the drugs they got busted for were anabolic steroids. A few weeks after that, a couple of the players, a pair of real psychos, had a sick scheme in which they would get cheerleaders falling down drunk, then they would rape them while they were passed out. Those two asshats got 18 months in prison eventually for raping anywhere between four and 10 girls.
At their prelim, they brought up "it wasn't me judge, it was the steroids."
I finally scheduled an interview with the county sheriff, and I pointed out all these cases to him and he told me there appeared to be a major steroid trafficking ring in the county and it was mostly directed at young athletes.
So I did a story about the steroids trafficking in the town, focusing on the guy who went monkeyshit in the pizza place, then the jocks getting girls drunk and raping them (Did the steroids turn them into rapists? I doubt it, but I think the steroids were part of these jocks' drug and alcohol culture). It ran at the top of page 1.
A few years after that, Mark McGwire and Sammy Sosa had their steroid-fueled home run chase. I just I didn't know much about steroids then. I took them for a while when I was a kid for asthma and they did make me gain weight. I had a bad feeling about what was really going on. I just looked at them and thought their bodies did not look natural. At the time, McGwire, credited getting new contact lenses and seeing the ball better.
Well after 10 years of evasiveness and "no comment," McGwire, as most of you know, admitted this week he was a longtime steroids abuser, and he was taking steroids in 1998. I believe the only reason he admitted it is he is starting a new job this spring with the Cardinals, and he didn't want to be hassled over the steroids questions any more. He has seen how fans have given a pass to Pettitte, A-Rod and Giambi for admitting their PED use.
What's my reaction? At this point? "Meh!" That's the reaction of most people, I think. I think we all simply have "steroids fatigue." I've somewhat lost interest in busting people over what was going on 10 and 15 years ago.
Let's face it, probably most of the players in baseball in the 90s and early 2000s were doing steroids. Look how many people have been caught – Manny Ramirez, A-Rod, Giambi, David Ortiz, McGwire, Canseco, Palmeiro, Juan Gonzalez, Pettitte, Lenny Dykstra, Rick Ankiel, Troy Glaus … and how many more have been implicated, Bonds, Clemens, Bret Boone, Sosa, Brady Anderson. These names are just the tip of the iceberg. There are many, many more. Baseball knew it. It looked the other way. Because home runs drew fans.
As an aside, I find it interesting how forgiving fans are to the athletes who cop to it; and how unforgiving they are to those who refuse to admit their steroids use. It's some weird American psyche about just confess your sins and let's move on, but if you don't, we will never let it go. People get more angry over the lying than the actual cheating. I don't really place a value on that; it's just an observation.
And I believe the doping goes back further than people want to think about. Remember Carlton Fisk? Decent home run hitter, but never put up huge power numbers with the Red Sox. His best power year was 26 home runs in his mid-20s. But in the mid-1980s after a few down years, he had a huge power surge at the age of 37 in 1985. He hit 37 HRs at 37 … as a catcher. He hit 19 home runs at age 40. He hit 18 HRs at age 42 and again at age 43. No catcher had ever done anything like that before. I'm sorry. I can't believe he did that naturally. At the time, he credited a weight-training program and "better nutrition." (He really did.)
I'm going to throw out another name. Nolan Ryan. He struck out 1,440 batters after the age of 40, and his post-40 ERA was under 3.40. Power pitchers simply never did that before. Their bodies broke down. You just can't keep throwing a baseball in the upper 90s into your late 30s. Bob Feller was done at 35. Walter Johnson was done at 37. Bob Gibson's last good year was at 37. Nolan Ryan developed a sick breaking ball, but he was still throwing 97, 98 and striking out 200 guys a year at age 44. At the time, Ryan credited his weightlifting and "good nutrition."
Let's face it, most cyclists in the 90s and early 2000s were using PEDs (cyclists probably don't do a lot of steroids. EPO, synthetic testosterone, CERA, and other people's blood are their PEDs of choice) – so many have been caught – Basso, Vinokourov, Riis, Pantini, Rasmussen, Heras, Ullrich, Mayo, Landis, Hamilton … and others implicated, Contador. Let's be honest, even Lance Armstrong will always carry the taint of doping with him, whether he is guilty or innocent. Several of Armstrong's teammates have has been busted for doping … after they left his team. And Armstrong beat all of these other people, for seven straight years, who were caught doping. Does that mean he was doping too, or just that good? Who knows? That's another one of the bad things about PEDs, they implicate everyone, whether they have been found guilty or not. (And I'll be honest, I'm doing the same thing here with Fisk, Ryan and another name in a moment.) But, if Armstrong has doped, he never got caught. And I'm tired of that debate. And I guess at this point, it's old news, and it's moot.
Here's the reality. 10 years ago, doping was equally out of control in both cycling and baseball, and you know what? Wake up. Doping has been, and I suspect still is, rampant in football, basketball and hockey. I think it's the NFL, NBA and NHL's dirty little secrets.
30 years ago, you didn't have 265-pound linebackers who could run a 4.5 40. They simply didn't exist. Now the NFL is full of them. And let's be honest. As fans we like it. We like seeing those crushing full-speed hits from these athletic freaks. We are as complicit as anyone. Let's be honest with ourselves.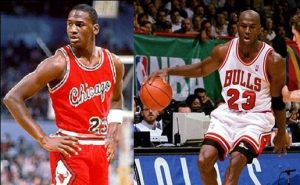 I'm going to throw out another name. Michael Jordan (sacrilege, I know!). When Jordan entered the league in '84, he was a beanpole. Later in his career in the late 90s, he had turned into an absolutely huge man; he had gained at least 50 or 60 pounds of muscle mass. He didn't even look like the same guy. Maybe he bulked up over time, but I'm sorry. I'm suspicious anyone could pack on that kind of muscle mass naturally. I look at LeBron James and I'm sorry, my reaction is, "no way that body of his is natural."
This is all idle speculation on my part about Jordan, James, Ryan and Fisk. My point is, I believe the doping in all sports — not just baseball, cycling and track — has been pervasive for decades, and we need to wake up about that before we completely condemn McGwire. I'm not condoning McGwire; I'm just pointing out he wasn't the only one. Should the dopers be in the Hall of Fame? Should their records count? I don't know. I don't have a hard and fast answer to that.
I've had some heated arguments with people about whether or not steroids are wrong. They have argued, "hey,it's their bodies, if they want to do steroids, that's their business." They point out athletes have taken greenies for decades.
I feel like they don't get it. For one huge reason. I've seen firsthand the damage steroids do. And if I had walked into that pizza joint two minutes earlier, that very well could have been me lying in a pool of my own blood. If you simply allow steroids to run rampant at the professional level, they WILL filter down to the collegiate level, the high school level … and the junior high school level.
Because that college player will have to do steroids to get drafted. The high school player will have to do steroids to get a college scholarship, or the attention of that baseball scout. The junior high school kid will have to do steroids to make the high school team. It's inevitable. If you allow steroids to run rampant at the professional level, you will NEVER control them at the amateur and underage level (They have a hard enough time controlling it now. You can't drug test in the summer. You can't drug test if the kid isn't playing sports in the spring.), because it will be the only way kids can move up to a higher level. You can argue whether or not blood doping is unethical or not, but steroids? Bad news. Really bad news.
Rather than focusing on punishing people for what they were doing 10 years ago, or focusing the records they set and who was and wasn't doping (though I'm guilty of doing that in this piece, I know, I was just trying to get people to think.), I think the *real* focus needs to be on cleaning the sports up now and in the future. I believe baseball and cycling honestly take the issue seriously … now … and I think they are slowly cleaning it up. I wish the NFL and NBA would clean up their acts (Four-game suspension for Shawne Merriman for steroids?), because I have seen how the steroids filter downward to younger and younger athletes, and the damage that can be done.