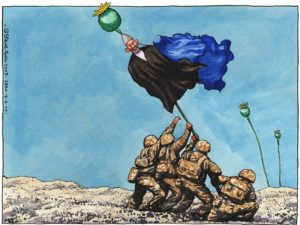 As a veteran of one war, I can see similarities in how we are conducting this war.  We're really doing nothing different that what we did in Vietnam.  We have developed and use the same formula in every major conflict since the end of World War II.
Here is the US formula for the cycle of war in 14 easy steps.
1.  Begin by telling the American people a pretext for involvement.  Mainly appeal to the themes that Americans can relate to.  We want to assist a peoples' plight from oppression, people who are dying to be free, to have democracy, to have human rights, to have equality, to live life in the pursuit of happiness.  In this case, we were attacked.
2.  Find a puppet we can install to put in charge so the world won't think we're the outright aggressors.
3.  Begin to fight the insurgents by supplying arms to the puppet government.  Funny, we call them the insurgents, but in reality we're supporting the real insurgents, the puppet government only a few of the citizens support.
4.  We send advisory personnel there to "train" the army of the puppet government and prop them up.
5.  Things don't go as planned, and begin to get out of hand, so we sent a few thousand troops over there to support the failing army.
6.  Things continue to go against us, as the army we supposedly trained can't tie their own shoelaces without us.
7.  So, we escalate. We send tens of thousands of troops over there, since we want to protect the ones already there, stabilize the puppet government, so we can make a hero's exit and leave behind a solid democracy.  Overwhelm them with sheer numbers.
8.  We bomb the bejesus out of the "enemy", who in reality the population supports, killing thousands of innocent civilians in the process.  Funny, it doesn't seem to be doing any good, so we drop more bombs.
9.  Finally, things begin to falter and we get war weary, the citizens back home are restless, more and more troops are coming home in bodybags.
10.  We finally see the futility of our actions and begin to pull out, completing the task in a couple of years so as to evacuate our personnel safely.
11.  The "enemy" then fills the vacuum we created by pulling out, and begins to disembowel the army we armed and trained, allegedly, and the country begins to disintegrate.
12.  Out of guilt, we evacuate the puppet government and its leaders, since if they stay, they will face a firing squad.  We fly them to Paris so they can live a life in exile in semi luxury, at least the puppet heads.
13.  Thousands of our soldiers are not so lucky.  Many come back in bodybags; others wounded, physically and mentally, and the government turns their backs on them, making them fend for themselves.
14. We lay low for 25-30 years, then begin to look around again.  Hmmm, let's see who's getting oppressed…….
And all the while, we took the lives of thousands of innocent civilians caught in the crossfire, giving them the very treatment we said the "enemy" was doing in the first place.
And the MIC makes huge profits while thousands of families cope with their loss.
That's how it was and this is how this conflict will end.  When will we ever learn, and stop waving our dicks?