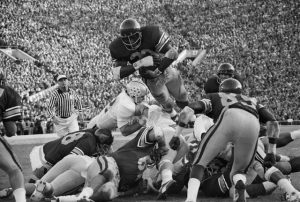 Once thing that hit me like a ton of bricks watching tonight's BCS championship game between Texas and Alabama.
Did you know that neither team had a black man on their roster as recently as 1970 — 1970!
Wilbur Jackson, a very good running back for the San Francisco 49ers, was the first-ever black man to sign with Alabama. He suited up in 1971. In 1970, the first black man suited up for Texas, an offensive lineman named Julius Whittier.
That's just 40 lousy years ago. That just astounded me when I thought about. Not one single black player on either team until the 70s. I checked the rest of the universities of the South. They all followed the same pattern. Clemson, 1970; Georgia, 1971; Auburn, 1971; Ole Miss, 1972; LSU, 1973!
Alabama was famously integrated after 1970 when Sam Cunningham (pictured) scored two touchdowns at Legion Field for USC. (Remember Sam "The Bam?" Once scored four touchdowns in the Rose Bowl. I actually watched that game as a kid. I think he gained a total of four yards on those four TDs.) Afterward, Bear Bryant knew he needed black players to compete against the best.
Fast forward to today. Less than a generation's time span.
More than half the players in the BCS title game for Alabama and Texas were black. There were black and white Crimson Tide players hugging after winning the championship.
Six black men are head coaches in the NFL.
A black man sits in the White House. Just 40 years ago, seven full years after Dr. Martin Luther King's "I Have a Dream Speech" on the Mall and five years after the passage of the Voting Rights Act, a black man, no matter how talented, how fast, how strong, how powerful, was not allowed to play football for the University of Texas or the University of Alabama.
I have on three occasions listened to blowhards in bars bitch about black quarterbacks — all three times dropping the N-bomb in public (One time I almost got my ass kicked because I muttered a little too loudly "Jesus @#$%ing Christ" and moved down to the end of the bar.). I don't know what it is about a black man playing quarterback that so bugs racists. They don't have any trouble with black receivers or black running backs. Something about a black quarterback, though drives bigots nuts. Remember what a big deal it was when Doug Williams won a Super Bowl, after a reporter (allegedly) asked him "how long have you been a black quarterback?" You know, Warren Moon couldn't land a job in the NFL when he graduated college in the late 70s. He had to play in Canada for six years before he finally got his shot. Now he is in the NFL Hall of Fame. Two other black QBs — Donovan McNabb and Steve McNair — are shoe-ins for the Hall of Fame. Think now how silly it is to even think about what colour a quarterback's skin is.
Maybe football isn't important in the big scheme of things, but sports are a microcosm of our society. We have come so far since 1970.