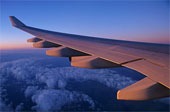 Although I no longer comment over at that other place,  I occasionally do a fly by (no pun intended) for a look-see.  On my last visit to HP, I found the following experience of a passenger aboard Flight 253. Besides needing to change my underwear, I had to ask myself what would I have done?
Roey Rosenblith is the Founder and Director of Village Energy (Uganda) Limited, a startup solar company that he runs out of Kampala, Uganda with his business partner Abu Musuuza. Village Energy is dedicated to providing renewable energy solutions and services to the 80% of Africans that currently lack electricity. On December 25, 2009 he was flying home on NW Flight 253, en-route from Kampala to visit his family in St. Louis. The following is his account of events that transpired on that day.

I was on my third in-flight movie when the screaming started, shattering my tired half-awake travel state. I had gone from watching Up to Inglorious Basterds and had decided to try rounding things off with Land of the Lost. That was when my fellow passenger Umar Farouk Abdulmutallab decided to ignite his explosives 19 rows ahead of me.
Read the entire article here.