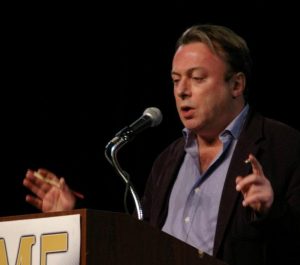 I find myself rather in the minority in my fondness for Christoper Hitchens.   It has been said, with very real credibility, that he is an opportunist who chooses his stance at any given moment based on currently popular opinion.   The accusation has evidence to back it up.   He certainly is a pompous ass who could care less about being polite while making his arguments.   Actually, he is not all that bad, assuming his correspondent is at least passably competent.    One needs to see  him in debate with assorted Theists to appreciate his respect for a competent debate.   Or to see him slap Hannity right across the face to see his contempt for inept demagoguery.
Hitchens especially infuriates liberals in being the most competent proponent of the invasion of Iraq.   He does rather manage to keep his arguments to actualy pertinent points, even though he can be painfully disingenuous at times.   Like conflating "terrorists" like Abu Nidal with bin Laden.   Additionally, he rather enjoys denigrating Tenet as inept, but I have yet to hear him mention the Aug 8 memo.
All that and more, set it aside and look at his reaction to Palin.   Now, one could say that he saw the writing on the wall, the certainty of Obama's election, and from that chose to repeatedly call Palin a joke and an insult, to say that McCain had lost his respect, that when Hitchens thinks "what do you take me for?", the battle is decided.   He now has a column lambasting Palin and her latest follies; now that there is less of the advantage to be gained by swimming with the electoral tide, perhaps his motives will  be less suspect.   I rather enjoyed the attached column, in which Hitchens ties Palin directly to one of the most horrific of Jew Haters to graduate from The Nixon University of Moral Cowardice.
I commend this to you as a good read:   http://www.slate.com/id/2237638/
Oh, for those who would dismiss Hitchens as a drunk, I offer his own response:   Oliver Burkeman writes, "Since the parting of ways on Iraq […] Hitchens claims to have detected a new, personalised nastiness in the attacks on him, especially over his fabled consumption of alcohol. He welcomes being attacked as a drinker 'because I always think it's a sign of victory when they move on to the ad hominem.'