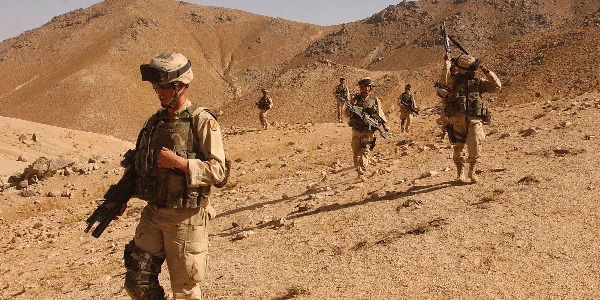 The numbers appear to be leaked by The White House, 30,000 more troops for Afghanistan.
Some of the buzz from the MSM is that Pres. Obama will present this as a part of a plan for winning in Afghanistan and that we should be out by the end of his first term.
I've previously expressed my criticism of the whole concept of "winning" in Afghanistan, namely that it will always be nebulous as there is no concrete finish line. The Taliban can have a resurgence if beaten down as they have shown and the corrupt, dictatorial "democratic" government is a ticking time bomb.
However, in politics, one can either lock their eyes on the context of the current moment in time…or analyze it to determine the subtext, the big scheme and unspoken strategy lying beneath it of which this may only be a part.
This is all hypothetical but let's consider Pres. Obama's current position, the political landmines on Afghanistan and actually taking constuctive steps there in an attempt to explore whether this may in fact be a prelude to withdrawal.
In an environment where winning a Nobel Prize and spending a weekend with his family are considered by his foes as outrageous affronts to the American People, how would "We're pulling out of Afghanistan!" play?
The Repubs would cry, "He made us lose!", "We're in danger of being attacked now!", "He's too weak on defense to protect us!", etc.  Once Teabaggers removed the obstructions in their mouths, they would scream, "Traitor!", "Surrendererer!", "He let the terarists win!", "If we're attacked now, it's his fault!"
And the Dem Party would be painted as weak on defense, palling around with "terarists", leaving our country open to attack, etc.
So, my proposition is that in order to pull out, Pres. Obama may feel that we first have to go in.  There are goals and tactical missions that could be accomplished in a brief period to help the Afghan people and root out any remaining Al Qaeda. We could leave Afghanistan on a strong note of accomplishments which will be good for our relationship with that nation, other nations and of course among the teabag-less majority here at home.
If this was his goal, to settle things down there as the first step of a pull out, he could hardly make that known to anyone. Though he did start whispering something like that in my ear at that WH dinner I crashed but I was elbowed out of the way by this bleached blond who had a copy of "Arianna Huffington's Guide to Getting Undeserved Attention" in her purse.
No, I am not happy that the 30,000 are being sent even if it is towards the goal of pulling out. Things don't always go as planned and those troops and more could get bogged down, killed and wounded there for many years to come.
But I do hold out the slim possibility that there could be a silver lining to this unpleasant dark cloud.  At least we know, if Bush was still in office or if McCain was, this wouldn't even have a remote chance of happening.
Only time will tell…