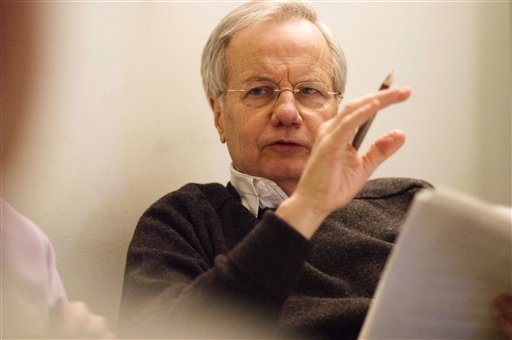 Journalistic integrity is fast becoming an oxymoron like "army intelligence" or "truth in advertising". Today's news programs have had a cleansing of "reporters". Now we have "anchors", or "personalities". "Commentators." Of course they cannot call themselves reporters, as that would imply some objectivity on their part.
Is there any integrity left in the industry? I do believe there is some. Most assuredly we are scraping at the bottom of the pot; possibly adding some water to stretch what's left. Is it irony that in today's media, some of the highest levels of integrity and honesty are exhibited by comedians? Fortunately however, there are still some reporters out there.
Some are new, like this Rachel Maddow I've seen lately. I don't watch her show, but I have seen some clips on the web. She maintains a professional demeanor, and plainly contrasts truth and fallacy as she interviews her guests. I look forward to seeing more of her in the future.
And some are old. Icons of journalism who've been around for years but haven't retired yet; postponing that last fade-to-black and becoming part of the past with Mr. Kronkite and Mr. Murrow.
I do not have much experience with this particular television reporter, either, but for the segments I have viewed, not on his regular public television broadcasts; but courtesy of YouTube. (Truth is, I don't subscribe to television anymore.) For 50 years, this man has been, and still is, pursuing truth and bringing it to the people for consideration. In doing so, he has enlightened me to some truths that are just plain scary. Scary in how evil some corporations are, how dirty they are willing to play, how naive the public is to attempt to compromise with them, and how complicit the govt. is in our nation's economic woes.
Please watch these videos. Share them with friends; post their links on public forums as often as possible. The truth IS out there. Some are still digging it up; and we owe it to them to pass it along until it is heard by everyone.
Ladies and gentlemen, Mr. Bill Moyers.
1.Moyers interviews William K. Black : [The] "Bush Administration essentially got rid of regulation, so if nobody was looking, you were able to do this with impunity and that's exactly what happened," — W. Black

2. Moyers interviews Wendell Potter : "Well, I was beginning to question what I was doing as the industry shifted from selling primarily managed care plans, to what they refer to as consumer-driven plans. And they're really plans that have very high deductibles, meaning that they're shifting a lot of the cost off health care from employers and insurers, insurance companies, to individuals. And a lot of people can't even afford to make their co-payments when they go get care, as a result of this." — W. Potter

3. Moyers discusses the history of health insurance and a single payer system : "Health care costs are rising 6% a year." — B. Moyers

4. Moyers interviews David Cay Johnston : "One of the key sources I quote is a prominent Republican lawyer married to a United States senator who is the expert in Texas on municipal finance. The subsidy, he says, is $202.5 million. And Bush and his partners captured about 168 million of it." — D. Johnston

5. Moyers hands an O'Reilly stooge his arse : "…and if you want a job, I may have some recommendations for ya." — B. Moyers