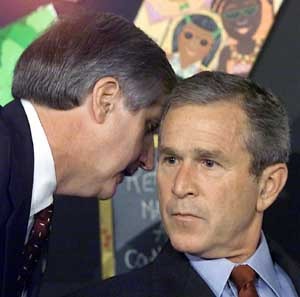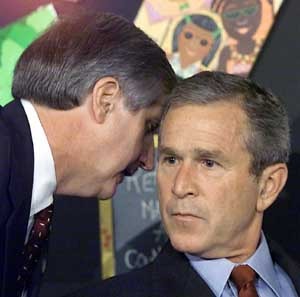 Today marks 8 years since 9/11. It is a day to remember those we lost in that cowardly and cruel attack, remember the bravery of firefighters, police, volunteers and those who fought back against the terrorists despite the risk and odds to avert further tragedy.
Unfortunately, it's also a day to remember all those lives, both American and Iraqi, that have been needlessly lost in an unnecessary war against a country that had absolutely nothing to do with that attack on our people and our country.
It's also a day to remember those in our military who continue to carry out their commitment to protect our country in Afghanistan and throughout that region and the world.
Our respect for all of the above and many I've no doubt left out (including the doctors and nurses and all kinds of professionals who gave their all to help their fellow citizens in the aftermath of the Twin Towers attack) should not however cause us to file away these awful events on a shelf titled, "Resolved".
Eight years later, we have much greater perspective on the events, the aftermath and how profoundly our nation was changed. It is to our benefit and a tribute to those we lost to be honest and interested about what 9/11 did to all of us.
From my perspective, we are clearly not a better country or society because of 9/11, the terrorists did win that round but by recognizing this, we can win the fight.
Flashing back to what seems impossible to believe was eight years ago, the one word that stands out is of course, fear. Fear was in the hearts and minds of most human beings in this country with good cause and unfortunately in the face and voice of our president as "My Pet Goat" was gripped in his trembling hands.
Who was attacking us? Were more attacks coming? What's going to happen next?
With the shaky and fumbling hands of the Bush Admin on the steering wheel, the country was run off the road of reason. Aside from the hysteria that was only magnified by the Bush Admin, the attack was cynically and opportunistically used to shove through changes to our rights and Constitution under the bullshit title of The Patriot Act.
There was nothing patriotic about that bill. It was about the government grabbing power away from the citizens of this nation and becoming more authoritarian. Spying on our citizens, codifying the suspension of habeus corpus, it was a tyrant's wet dream and in a moment of panic, instead of doing their jobs and reading it or amending it meaningfully, Congress just approved it as it was written by the Bushies.
There are a list of unpleasant things that followed which come to mind:
1. The anthrax attacks aimed solely at Democrats and "the liberal media", killing and harming innocent postal workers and citizens in the process.
2. The further terrorizing of the nation with the frequently changing terror alert color chart…which was confirmed recently to be manipulated to go up near election time.
3. More terrorizing of the public by announcing imagined threats as possible any day, radio controlled planes with chemical or biological weapons and "dirty" bombs.
4. MORE panicking of citizens by urging them to immediately get plastic sheeting and duct tape which, though would be completely ineffective against a biological or chemical attack in reality, was touted as a necessary way to protect ourselves.
5. The TIPS program proposed that would recruit telephone repairmen, cable installers, plumbers, etc., whoever was permitted into an American's home to spy on them while inside on behalf of the government.
6. The posting of armed military at airports…without ammunition in their rifles. A self-admitted facade to both falsely reassure travelers and remind them that they have much to fear when flying. Later of course, forcing people to take off their shoes because ONE person in the history of the world put plastic explosives in his shoes. God knows, that only shoes could be used for that, not belts or bras or underwear…uh oh…hope I didn't just give Homeland Security the idea to strip search all airline passengers now (even though new screening machine technology sees you naked).
7. Ari Fleischer warning Bill Maher and all Americans, "You better watch what you say."
8. A frightening chill over free speech, Bill Maher, journalists and educators across the nation lost their jobs because they dared to have opinions that did not match Bush's. Publicly criticizing Bush, in the media or at a social gathering, was considered anti-American (I remember Dan Rather quoted in the paper during that time, still anchor of the CBS News, saying he did not feel free to express critical opinions in the current environment).
9. People of color rounded up and detained like Japanese Americans right after Pearl Harbor, their rights unlawfully taken away, held without legal representation, sometimes secretly so family members had no idea where they were or if they would ever see their innocent loved ones again.
10. Racism, prejudice and hatred towards Muslims and anyone appearing to be of Arab descent. Hate crimes rose, nationalistic songs and talking heads were popular, an early stage of an environment for fascist rule was occurring.
11. Lying, manipulating and frightening the country into supporting launching a war, for the first time in American history, against a sovereign nation, Iraq, which had nothing to do with 9/11 and never attacked nor represented any threat to our nation.
12. Denigrating and attacking the nations of conscience that refused to join with Bush in his unjustified war against Iraq. The Congress bowed to this hatred towards countries that dared to exercise their sovereignty instead of being a pawn of the U.S., even stooping to renaming "French Fries", "Freedom Fries" at the Congressional eatery. Deemed "Old Europe" and "inconsequential", the reputation of the U.S. plummeted around the world as a hateful bully (odd for Republicans to be seen as hateful bullies, totally out of character as we've seen recently, oui?)
13. Torture. Abu Ghraib. Renditions. America became a brutal and heartless monster to much of the world…including to Americans.
14. Asking Americans to do their part to combat terrorism by…shopping. Spending as much money as they can, even pulling money out of their inflated home equity to buy, buy, buy their way to safety and security. How did that spending spree work out for all of those home owners, anyway?
15. War profiteering by companies with close ties to Bush and Cheney. Servicemen murdered by these corporations who executed them by electrocution through poorly and cheaply done wiring in their showers in Iraq. They are murderers who killed our soldiers just as terrorists did, by putting their agenda, more money and profits in their case, as more valuable than human life.
16. Blackwater. The privatizing and corruption of our military by a messianic Christian crusader who wants to eradicate Muslims from this "Christian world". A shadow military that was above the law and could not be prosecuted no matter how horrible and unjustified their acts. They committed brutal and savage murders of innocent Iraqis whose crimes were being in the wrong place at the wrong time.
17. Pissing all over the tragedy of 9/11 by shamelessly using it for election campaigning or used time and again by Bush to manipulate Americans to supporting his latest theft of their civil rights for the benefit of Republican or corporate power and wealth.
18. Turning the Justice Department into a goon squad…lead by the chief goon Alberto Gonzales. And the nauseating letters that tore up our Constitution and The Geneva Convention from John Yoo and other disgusting lapdogs at the "Justice" Dept.
19. The failure of leadership from the White House to make sure that the Twin Towers were rebuilt as fast as humanly possible to send a message to the terrorists that they can't beat us or keep us down.
20. The revelation that our phone companies had been secretly spying on all of our phone conversations and emails in violation of our Constitution…and that even Dem members of Congress knew about it.
I'm going to stop at 20 but please feel free to add on.
I felt like a stranger in a strange land under Bush's tyranny. I did not recognize this country nor the many who marched in lockstep with Bush. They reminded me of other times in history when a nation of people were dominated and manipulated into giving up power and freedom and supporting horrible acts.
Whatever my criticisms of Pres. Obama, I finally exhaled freely after 8 long years of holding my breath when he was elected. I am so grateful to have a smart, conscientious, responsible man leading our nation who has spent a good part of his life studying and revering the Constitution of the United States.
We now have our presidency back from an ignorant, selfish and destructive child. We have our country back from the hands of greedy tyrants. We are fortunate indeed and on this day I don't take that for granted either.