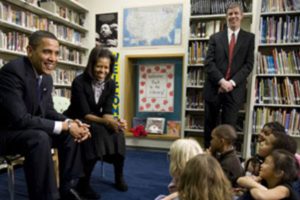 Asking kids to write a letter about how they can help the President means this:
The President = the country = the communities in the country = the people who live in those communities = the families who are made up of those people = the kids who are part of those families.
So basically the kids are being asked to write letters of suggestions about how they can improve, help, affect positive change in their OWN lives.
He is NOT asking them to write letters about HIMSELF, personally, but rather to the President of the United States, the position he holds.
It's really not that complicated.
Stay in school fools!