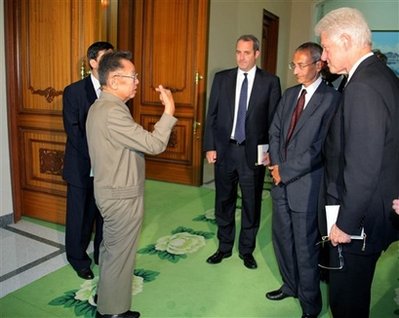 Congratulations Former President Clinton for facilitating the release of two American journalists in North Korea.
"SEOUL, South Korea – North Korean leader Kim Jong Il issued a "special pardon" freeing two jailed American journalists after talks with former U.S. President Bill Clinton, North Korea's official news agency announced Wednesday."
Click on link to read entire article about pardon of American jornalists in North Korea.
First Former President Clinton is a fabulous emissary for President Obama to call upon in humanitarian international negotiations like these. The former president has credibility around the world especially in the Far East and Europe. It appears that he has handled this situation very well.
Second Secretary of State Clinton has not been very credible in the Far East so far. She has made some notable gaffes including her continuing childish words between her and leaders in North Korea.
" An unnamed North Korean official quoted by the state-run KCNA news agency calls Clinton "by no means intelligent" and a "funny lady."
"Sometimes she looks like a primary schoolgirl and sometimes a pensioner going shopping," he said.
The remarks seem to be a reply to Clinton's comments to ABC News in which she compared North Korea's leadership to "small children and unruly teenagers and people who are demanding attention.""
Overall SOS Clinton has done a solid job in many areas around the world promoting President Obama's reconciliation with our allies and negotiations with our foes.  Our relations in Europe including Rusia has been much more productive and our backward relationships with Mideast nations are starting to improve.   But our negotiations with North Korea have stalled completely.  Maybe it's time for Former President Clinton to get North Korea to come back to the table on preventing proliferation of nuclear weapons.