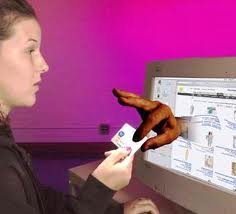 It has been awhile since I wrote the first post on my adventures in Fraud Investigations and I thought it was time for another post.  The reason I am writing again is to entertain and to explain how or why I am considered the "analytical" personality because that is what made me so successful in the field.  Personally I think it is because I cannot stand people who hide their true intentions.  I am skeptical by nature and if I really read something thoroughly I can usually tell if I am being told the truth or if someone is trying to "pull the wool over my eyes".  If they are doing so to me, then they are trying to do the same to everyone else, right?  And that pisses me off to no end.  If what you have to say is above-board and on the level, you will not have to hide behind a facade.
Growing up I never wanted to be a banker or in law enforcement, I was sure I was either going to marry Ricky Nelson or become a reporter like Walter Conkrite.  To tell the truth, I went into Banking because of the hours and in 1982 the hours were 9 to 3 with an extra hour in the branch to balance the tellers.  But one day I went on an interview recommended by a friend of mine with a company who was just moving to California and I was offered a position.  I was the first California employee for the bank and it was in the operations area.  I also got into Investigations because of two mentors, one who was the Fraud Manager and the SVP who originally hired me.  They had an opening and I told them I was going to apply.  The SVP and the Fraud Manager told me no need if I wanted it, the job was mine.  I was elated, a job doing research and investigations all day?  Whoo hoo I was in heaven.
Back in the early 80's the Nigerian government was in the business of sending surrogates here in an attempt to take advantage of our banking system and their favorite MO was Fraud Applications, what is now called Identity Theft.  The backlog in the fraud department was approximately 200,000 dollars so I learned on the run.  We had a variety of cases but the most pressing were the fraud apps.  We had figured out that the Nigerians were using PO Boxes as addresses by using the street address of the maildrop and the box number as an "apartment" in order to get past the physical screening on the applications.  While we had a huge backlog of losses pending, it was agreed that we needed to come up with a mechanism to stop the incoming fraud, as much as we could.  We actually came up with a pretty simple solution, we ordered phone books for all the big cities and started a database(for the techies it was DB4) with those addresses.  Then our technical group wrote a program to interface with our database.  It was incredible how many apps were kicked out and had to be manually reviewed as a result of that database.  I can also say that our database idea was shared with other agencies/banks and the program was used by a quite a few institutions..  Can you imagine that today?
I was not the only one who had fraud apps to investigate but it came to that at one point with Nigerian fraud.  I had a case where I figured out a pretty sneaky system the Nigerians' were using and from that point on, fraud apps were mine exclusively.  The system?  What they did was fill out an application and mail it from New York, the address on the application would be a city in Texas, but when the card was used, it was used in Los Angeles.  It was really simple, they would call the card in as a non receipt because they knew we would "region" that card in Texas.  Back in those days, it was a manual situation.  You would enter a region and when files for that day were submitted to Visa for processing, a separate file was also sent for fraud business.  Because there were "cutoff" dates, the card would sometimes take as much as 7 days to end up on a lost/stolen bulletin.  The problem?  Texas was a different region than California.  So, you place the account in region 2 and the card is being used in region 7.  It took awhile for us to catch on but when I figured it out, we were able to go through recent apps and pull all accounts that had the same characteristics.  It was confusing to be sure but really all it took to figure it out was to make all those connections.  What they figured was that no one could be prosecuted, WRONG.  Not only was the original person who filled out the application prosecuted, but so was everyone else along the pipeline.  True, they were all prosecuted for individual crimes, but they were all prosecuted just the same.  They did not count on us figuring it out so quickly, nor did they count on the Secret Service coordinating cases and busting them with their fingerprints on the original application, proving they had facilitated the process.  Can you imagine how pissed I was when I learned no one got sentenced for more than two years?  It is true, federal crimes have lesser sentences unless it is a major crime but what the Secret Service and the Federal Prosecutor were more interested in was deportation.  All INS required was one year and a day to qualify for deportation and/or cancellation of their Visas .  Yep, none of these nigerians counted on the fact that Federal Marshalls would meet them upon release and escort them back to Nigeria.  I laughed so hard when I got a call from one of those Marshalls while waiting to board a plane for Nigeria with one of my "criminals".  When the Nigerians figured out we were on to their tactics with credit cards, they moved in far less lucrative fraud, such as the email telling you have inherited money.  Yes, there are plenty of Americans who have fallen for that scam, some losing their entire life savings.
I also had a case that was a result of the Mafia/Mob/Cosa Nostra and a fraud application.  They broke into TransUnion in Chicago and stole thousands of credit files.  I caught one of the cases, a fraud app totaling 785.00 and change.  I remember that amount because the enire fraud was millions of dollars and I was subpeoned to testify on my measly 785.00.   Can you imagine?  They wanted me to testify against the mob on a measly dollar amount?  Of course it was not just me, there were others, banks that had lost millions, property developers, the list goes on.  I tried my best to get out of it and the FBI agent in charge was not relenting.  I finally had our SVP call the FBI and talk some sense into them, they allowed me to provide my documents and an agent from the SF office filled in for me.  Sorry, but my face was not going to be seen by the mob for a measly 785.00.
There were scams where people shoplifted, then took the merchandise back for a credit which the bank had to refund.  A group of small time gangsters and prostitutes in Michigan who rolled johns for their money and cards.  I found that one while doing a review of one Investigator's files.  I was looking at all her files for 60 day review and I found a funny pattern in several cases.  The cases were all different names, but the person signing the sales drafts used the name Pauline on all of them.  Now that was just stupid fraud.  It was funny when I called one cardholder because he had never returned the affidavit,  I point blank asked him, "Did you visit a prostitute?".  His answer was, "Um, wait a minute, I have to go in the other room", I am sure his wife had been sitting right there.  When I assured him we only needed the affidavit and he would not have to testify, he sent it in.
We had our bad accounts but we always had the funnies too.  There was a family living in Ohio and the entire clan was into fraud and stolen merchandise.  The family name was Flowers but when they were committing the fraud they went by the name of Kwiatkowski.  I am not sure if this is true, but the detective who busted them told me Flowers was the English name for Kwiatkowski.  When they were busted they had tons of stolen credit cards, fraud application cards, merchandise and a game on their coffee table called, Screw the Banks.  They made it up, of course, but I bet if they were honest people today they could have made a bit of money marketing that game.   Later I remember a gymnast on the Olympic team whose last name was Kwiatkowski.  I always wondered if she was related.  Then on the merchant side we had a pretty funny one too.  The men who committed the crime took advantage of the 1989 Loma Prieta earthquake in San Francisco and the ensuing confusion.  They took credit cards for the customers and ran them through two or three or sometimes even 5 times, always increasing the dollar amount.  Because our data center was in San Francisco, the normal reports we received each day were delayed by two days so we did not catch the deposits until the third day of their scheme, really the 4th.  They ran up deposits of over $200,000.00 in credit card charges.  Because the bank had him as a preferred customer, he was able to pull his funds right away. The business was called, La Cage Aux Folles and the man who owned the business was not able to hold up under serious questioning.  He folded fairly quickly when I took the Secret Service Agent to the location for questioning of the two gentlemen, the poor guy was totally ill at ease when we got there because the place was dolled up in pink, red and everything was frilly.  It truly looked like a pepto bismal nightmare and the SS agent was so uncomfortable, it was almost funny but I did show him some compassion.  This guy, Irv,  had committed fraud all over the world, I really felt sorry for his parents, they mortgaged their home to pay off his debt so the guy would receive a lesser sentence.   I could not help but wonder how many times he had put them in a similar situation, he was in his 50's so they were most likely in at least their 80's.
I also worked bank robberies for a short period of time, but that one was too much for me.  Even though bank personnel may not be physically hurt in a robbery, the mental toll is usually pretty serious and sometimes does not manifest itself for a few days.  It is difficult to deal with even if you are the investigator in the aftermath or the referral person to bank provided counseling.  At that point I went on an interview that I was recruited for at Visa USA.  What a difference working for the member association on the other side of the banks.  I got to travel all over this country and for two years had staff on the west coast in San Mateo and the East Coast in McClean Virginia.  I was on the east coast for at least one week out of every month and I got to know the DC, VA, Maryland areas almost as well as the bay area.  I saw all the sites in DC and at one point was the tour guide for other west coasters visiting there.  I enjoyed my time there, plus all the perks.  There was a pension plan without a union, we got 4 to 1 on our 401k contributions and every year we received a bonus.  That went on until Walmart and their friends won the lawsuit regarding debit cards.  After that and the penalties Visa and MasterCard had to pay, the layoffs started.  In the end, though, I was relieved to get out of the rat race.  I would not give up any of my time spent in banking but in my day the banks paid more attention to risk, prior to Glass Steagal.  And I would go back but only if the banks reverted to honest banking.