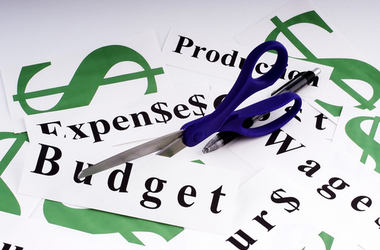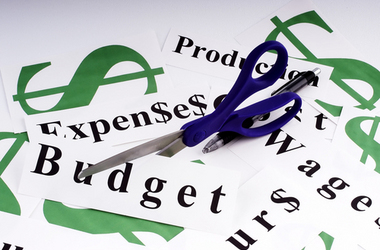 http://planetpov.com/?attachment_id=20577
This is the eighth in a series of articles that will hopefully educate readers and illuminate the process of doing business in a simple to understand, nuts-and-bolts way.
To read all the articles in this series, click on any of the following:
In the last article, we established a method to predict sales and established a concept of how to look at Cost of Goods Sold (COGS) as a percentage of sales.  Now let's expand on that a bit to get to a useful Financial Plan.  As you recall, our sales history looked like this:
Now, in going back over your records looking at COGS information, you can fill in another line listing COGS expenses by month in the same way.  This isn't rocket science, but slogging, hard work. 
Now, go back and do the same thing for your General & Administrative (G&A) Expenses for the same periods that you have done for Sales and COGS.
Normalizing G&A
If you have properly separated out your COGS expenses, the G&A expenses should be fairly stable month-to-month.  Rent stays the same, insurance, mailing, office supplies, phone bills, etc., all average out to be pretty much the same every month.  It's that average we want to consider.  Find out what that average is per month and make a note of it.
You are now ready to do a few simple calculations, so haul out your calculator.  Here are the formulae: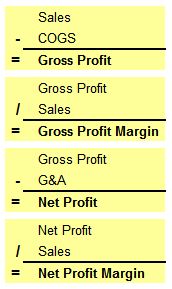 Perform this operation on each month you have data for, and for the yearly totals.  It should look something like this:
There is a ton of information here.  What you have just accomplished is a historically accurate and rational picture of how your business operates month by month, quarter by quarter, and for the year.  There's lots to think about as well.  You can see in the model above that the last two fiscal quarters of the year carry the first 6 months.  You can see that you will likely have cash flow problems to overcome.  And you can also see that you can expect to have a tidy 10% Net Profit at the end of it if you operate according to historical norms.
Many bad business decisions are made because of panic over not understanding how a business operates from this perspective.  If you are sitting in March with a HUGE negative Net Margin, it is easy to think you are in trouble.  If you, instead, KNOW that this is how your business ordinarily cycles, and you are on track according to this map, there is literally nothing to be concerned about.
By the way, you have just created a Financial Plan, or at least the base of one.  If you take this map of how your business operates, and plan to, say increase Sales by 5% in the next fiscal year, take all this information and do the following:
Increase each month's sales numbers by 5%
Maintain the overall COGS percentage in each month
Maintain the G&A actual dollars
Observe what happens to the Net Profit dollars and Net Profit Margin
Or, you may have a plan to decrease COGS by 2% in the next fiscal year as well.  Plug in the proper numbers and see how that affects your bottom line.
THIS IS A VERY VALUABLE PLANNING TECHNIQUE!  You must master it in order to understand how all the moving parts of your business interact!  And, by the way, whatever you decide to do with your business in this regard, once you have made a plan for the coming fiscal year, a summary of that plan, with real numbers that mean something and are based in reality, belong in…. The Business Plan.
———-
Please contact me offline at microconsulting@aol.com with anycomments, suggestions or ideas for future articles that you may not want to share here.
———-
Related articles