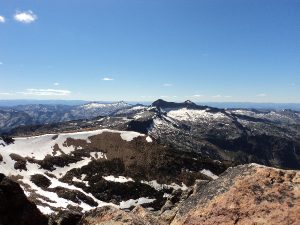 Hi, haven't posted here for a bit. When the sun is out, I'm not at the computer as much.
We hiked up to the top of St. Mary Peak yesterday. It's the easiest 9,000-foot peak I've ever summited, mostly because the trailhead starts at 6,800 feet, so you only have to go 2,550 feet uphill in 4 1/2 miles. For such a large mountain, it's quite easy to summit. I've seen people bonk and collapse at 8,000 feet because they can't handle the altitude, and the first couple of times I did it, it hurt, but I've gotten used to it. You see young kids at the top all the time and this day, we even saw a baby.
It was a beautiful gorgeous day. We purposely started out late, because it was very, very cold in the morning  — actually in the 20s — and we weren't sure how windy it would be at the top. Thank goodness they have graded this road. This used to be the worst road in the Bitterroots — 15 mph the whole way. Now you can go 25, at least!
There's a trail all the way to the top and a very big, still active fire lookout. Most of the fire lookouts in the Northern Rockies have been abandoned, because they rely more on satellite and planes now to track fires, but they've kept this one. It was open, but the lookout was gone. You can see that big fire lookout all the way down at the Bitterroot Valley floor, 6,000 feet below.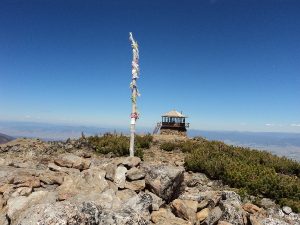 St. Mary is a very safe mountain. The trail switchbacks onto a broad, relatively flat plateau, then you climb up a slight hill to the top. Somehow, two people died on the mountain two years ago. It's a complete mystery how they could have died. The best theory is that they had a dog with them and the dog ran off and fell down a cliff. While trying to rescue their dog, they fell off the cliff, too.
One time, a couple of years ago, I climbed it solo and ran into a raging blizzard. Really nasty. It got a little scary on the way back. This was in early August. I was reminded that this is a very big mountain very far north.
Anyway, at the summit of the mountain, you get an amazing view of the Bitterroots. You can see all the way from Trapper Peak to Lolo Peak. I could see all the Bitterroot 9,000-footers I am planning on climbing this summer. You can see far into Idaho. One time I climbed it, you could see a big forest fire that I knew was in central Idaho over 100 miles away.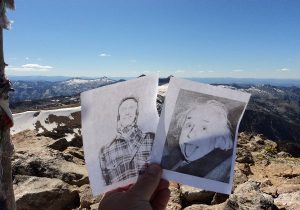 The two most prominent peaks are called the Heavenly Twins, 9,282 feet and 9,243 feet. These peaks are a couple of real mountaineering challenges, well beyond my experience or gumption anymore. They are a couple of beautiful summits right on the Idaho/Montana border.
At the summit, people have built a neat cairn with a pole to attach Tibetan prayer flags. Last summer, the cairn was in full bloom with flag, but no one has replenished them yet this year. The flags are all torn and tattered by the ravages of the wind and the winter.
I thought this would be a nice place to leave a little memorial to a couple of longtime HP posters I will miss — CarlVee and HumeSkeptic. Not to the people of course, that is for their families and loved ones in the real world, but the posters, and their avatars. I brought up a couple of paper copies of their avatars, and left them under the cairn. Technically probably against the rules since this is a designated wilderness, but the cairn and flagpole itself is against the rules. I carefully placed some rocks over their images so they wouldn't blow away.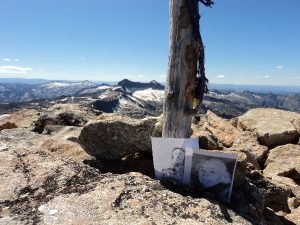 I thought it was a nice place to remember them, with the view of the Heavenly Twins. I'll miss their wit on HP. They made it seem homey somehow. Hume I especially remember from the old days on HP, when it was a safer place. It's not as nice of a place as it used to be, for a lot of reasons, and their losses will contribute to that.
I was worried this little gesture might come off trite or corny. I hope it doesn't. It was sincere.
Rain and snow will rot the paper over the next year. It will be interesting to see next year if their pictures are still there under the rock.