As some of you who have read my posts and comments may know by now, I consider people on the Right to have pathology. And the further Right, the more pathology. They confound me. I cannot seem to grasp what makes them tick, so I turn to psychology to try to explain how they can possibly see things so differently than I do. Projection, poor cognition, feelings of inadequacy, fear, worship of authority—even a history of abuse, those are the most common traits I ascribe to them. I also have a theory (and I am definitely not the first to think of it) that Liberals and Conservatives have different world views based on how they view people:  Liberals seem to believe that people (and the corporations made up of them) are not always trustworthy—that they need to be regulated for the good of society. Conservatives seem to feel that left to their own devices, people and corporations will do the right thing; that the more freedom the better. OK, that's very over-simplified, but I think it's basically the way the divide works.
The other day, I stumbled across a site called Moral Foundations.org. and they have a different theory about the divide between Left and Right—that it is based on our morality. Specifically, on the importance we each place on different aspects of morality. Not that either side is more moral than the other, but that our moral systems are different. The guy behind the site is Dr. Jonathan Haidt, from the University of Virginia. He says that morality in all cultures around the world can be boiled down to 5 basic building blocks or foundations:
1) Harm/care, related to our long evolution as mammals with attachment systems and an ability to feel (and dislike) the pain of others. This foundation underlies virtues of kindness, gentleness, and nurturance.
2) Fairness/reciprocity, related to the evolutionary process of reciprocal altruism. This foundation generates ideas of justice, rights, and autonomy. [Note: In our original conception, Fairness included concerns about equality, which are more strongly endorsed by political liberals. However, as we reformulate the theory in 2010 based on new data, we are likely to include several forms of fairness, and to emphasize proportionality, which is more strongly endorsed by conservatives]
3) Ingroup/loyalty, related to our long history as tribal creatures able to form shifting coalitions. This foundation underlies virtues of patriotism and self-sacrifice for the group. It is active anytime people feel that it's "one for all, and all for one."
4) Authority/respect, shaped by our long primate history of hierarchical social interactions. This foundation underlies virtues of leadership and followership, including deference to legitimate authority and respect for traditions.
5) Purity/sanctity, shaped by the psychology of disgust and contamination. This foundation underlies religious notions of striving to live in an elevated, less carnal, more noble way. It underlies the widespread idea that the body is a temple which can be desecrated by immoral activities and contaminants (an idea not unique to religious traditions).
His goal in all this is noble: To find a way for us on both sides of the political spectrum to understand each other. His work has been widely discussed and here is an article from the New York Times about it. Andrew Sullivan also used his tests to decide if he was still a Conservative! The site has several really interesting quizzes to see where we are on the political spectrum, based on how we answer questions on the five foundations of morality.  I recommend these quizzes. Some seem very easy, but the moral dilemmas get harder. I found some of them really challenging.
This graph represents one of my test scores. You can take one or several of his tests here.  But please don't feel you should share yours! ( Edit: I should have noted that my scores are in green. )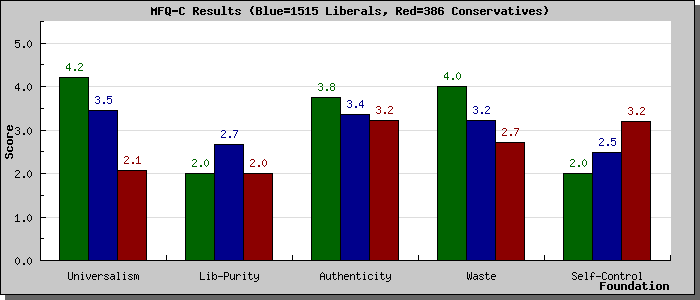 Enjoy!