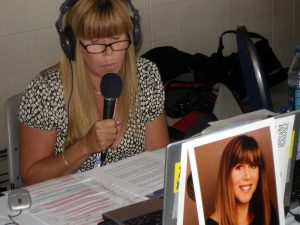 I've mentioned Randi Rhodes a few times on this site. She's probably my favorite progressive broadcaster (Rachel Maddow is nipping at her heels). I like Randi because she reads. She scours the newspapers and agency sites for stories, and she has an uncanny ability to pull together information from different sources to create a narrative that other news organizations miss. Many times, insights from her broadcast can be heard on other, higher profile shows (I won't mention them by name, but they are popular with progressives).
I also enjoy her show because her callers are so intelligent. Below is the transcript of an exchange between Randi and a caller from the January 28 second hour. It's a very important conversation — one I wish we were having more often. (Our Mr. Bopp would be thinking along these lines.)
I've substituted the word "Caller" for the caller's name for privacy's sake. I'm sure he wasn't expecting his words would be preserved in this transcript.
Note: Adlib, I don't think we run into any copyright issues with this transcript (Fair Use), but let me know if you think it's problematic
RANDI: Caller in Santa Rosa, California.

CALLER: Hello Randi.

RANDI: Hi.

CALLER: I wanted to talk about the corporate thing that you brought up today because it's so profoundly important. In my opinion, what the supreme court did was to change our form of government in the same way that, when a bably is born, you really don't get to see what it's like until it begins to develop. We're not going to see — many people are not going to understand, in my opinion — what occured in that decision and how it's going to emerge over time Into a corporate state, which is a different form of government as you know…

RANDI: I do.

CALLER: …than democracy. They're not the same thing.

RANDI: No, they're not the same.

CALLER: The corporation — which the republicans are always trying to tell us, "What a wonderful way to run the country" — a corporation is a state… is a… is a … institution in which the executives give orders. Orders are not what we do in a democracy. They're different things. One is a political system, one is an economic system. And we have been now moved into an economic system that will continue to unfold as a fascist state. I say fascism because that is what Mussolini created when he created fascism. And that's what a fascist state does. It is a ruthless, deadly, murderous form of government. When you transform it …

RANDI: It's lawless.

CALLER: When you transform it from a form of running a business to a form of running a country…

RANDI: Don't you remember Bush said he was going to run the country like a corporation?

CALLER: Yes. Yes.

RANDI: And a lot of us just, you know, had this knee jerk reaction like, " Oh my god, this is fascist speak." And we were, you know, told that, you know…

CALLER: That's right.

RANDI: … we were unpatriotic, we didn't love our country. And obviously we weren't stupid. I wasn't asleep in dream land. I understood …

CALLER: No you weren't.

RANDI: … what the goal was. I got it.

CALLER: You felt lonely.

RANDI: I did.

CALLER: That's what happened.

RANDI: I did. And now …

CALLER: And many of us did.

RANDI: Well, you know, what's really interesting is …

CALLER: I'd like to …

RANDI: The corporate media for the most part has ignored this supreme court ruling.

CALLER: They will continue to do that as long as they can, and if I may add..

RANDI: It's so fascinating how they ignore stories that are inconvenient to their agenda of corporatism.

CALLER: They're lazy for one thing. They only want to do something that doesn't require them to spend money on reporters …

RANDI: Well, quite frankly …

CALLER: [unintelligible]

RANDI: Right. The punditry is not that bright.

CALLER: No. No, they're not. And they're not looking at something very important that is not discussed. One of the things that I think …

You know, when a child walks behind its mother only looking at her heels, he never sees the big picture. He never sees motive. He never sees intent. Motive tells us what people want the outcome to be. And if we don't look at motive, we only see things as events, and we don't see them as a process. When the Bush administration set about the financial procedures, the economic procedures, it knew what it was doing. It was creating massive debt with the intent of making the country ungovernable so that the following events that they set in motion would lay this country low.

And when people refuse to talk about motve, which is comprised of circumstances … When investigators and prosecutors look at motive, they're only looking at a set of circumstances and they say, "You know, we don't have any absolute evidece, but here's a bunch of circumstances that all seem to add up to the same thing — that there's an intent here. A motive."

So when we have Bush bankrupting the country and knowing what they were doing … They're brilliant people behind him. Brilliant. They knew what their policies were doing to this country, and they even said, there were quotes, "You know what? Debt is not a bad thing." Why do you suppose they said that? Because debt is the engine of capitalism. Debt is the engine and fire of capitalism. That's how they make money. On debt.

Low and behold, along comes guess what? The big catastrophe of the big corporations. Oh what a surprise! You mean those people, those geniuses who created those systems didn't know what they were doing?

Now we come along with another kill stroke from the Supreme Court.

If we don't look at motives, we're not able to assess what people were trying to do, and we only see the events without ever seeing the process. And until people start facing the fact that … There are very large nubers of people in the United States, not a small number, who — in any country they're always present — who don't want to live in democracy. And in this case they want to live under a corporate state. And when they talk about things like "I'm a free trader"? There are two kinds of those people. One is t the guy who knows absolutely what he believs in and understands it. He believes in a corproate way of life. The other guy is confused. He's the guy who's the average guy who thinks somehow he's going to belong to the special club some day. He's never going to make it. Never.

Ninety nine percent, we now know, of the American people are not the one percent of the people who have all the money. They're never going to get in that club. And that club is a corporate club. And when that club becomes a form of government instead of a form of economics, the American people will rue the day they never thought about motive. Because there will be blood everywhere.

RANDI: Thank you, Caller. That was beautiful. Really. Well said. Beautiful.