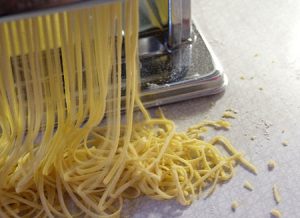 This is an item I have cooked two or three times, including this evening, and I will tell you, it is both simple and satisfying.
For three or four servings:
1 lbs spaghetti, thin, common or thick.   Cook it.
In a large saute pan, heat several tbs of olive oil, the good stuff.   How much?   The oil is the only liquid in the sauce, except a bit of the pasta cooking water.   So, enough to wet all the noodles, but not to the point it is swimming.   Avoid the swimming thing.
Tonight I cooked a thinly sliced onion in the oil for about half an hour.   Then one bungs in four to six finely diced garlic cloves.    Never cook garlic to brown, it just gets bitter.   Cook gently.   Also red pepper flakes to taste.   I like a fair bit, the women of the house, rather less.    I can always add a bit to my own plate.
Cook all that about five minutes and add the pasta.   One wants a fair bit of the cooking water to tansfer, and one does not want to discard the water until it is clear that y0u have the pasta well coated in oil, as a bit more water to moisten the sauce is a good thing.
Toss in something like a quarter cup or more of good bread crumbs.   I use Progresso seasoned.
Serve with good quality grated cheese.   My local Italian deli has a house blend that is excellent, at only seven dollars per pound.   It is none of it special on its own, but the three or four domestic cheeses in there work in tandem to create a depth of flavor that you would only find in imported Parmesans at twice the price.
This makes a nice break from tomato or cream based sauces, and really is delicious.   Also, cheap and easy, like me.    Trust me when I talk food.
We gotta see about a new category for food.