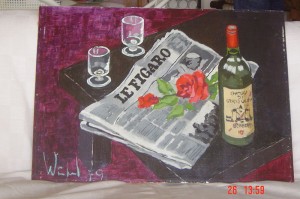 All week long, we see important stories that the pundits and splashy news sites choose to ignore. Sometimes these stories are the most important of the week. Here's where un(der)reported news gets noticed.
If you have stories from the week that you think have been buried and may have been missed by fellow Planetarians, here's the place to post them!
---
Note to Planetarians
I've been gathering news for this Friday article on my own to see if the feature would be popular enough to run every week. After a few weeks, it seems Un(der)reported News has a shelf life. So if anyone sees articles during the week that they would like included in the Friday Edition, please email Un(der)reported News. Thank you bito for starting us off with some submissions this week!
Intelligence Improperly Collected on U.S. Citizens
In February, a Department of Homeland Security intelligence official wrote a "threat assessment" for the police in Wisconsin about a demonstration involving local pro- and anti-abortion rights groups …. That was just one of several cases in the last several years in which the department's intelligence office improperly collected information about American citizens or lawful United States residents, the documents show.
Same-sex benefits advance, quietly
The bill would place partners of same-sex federal employees on the same footing as spouses when it comes to benefits including health insurance, dental and vision coverage, retirement and disability plans, workers' compensation and life insurance.
Marijuana is cash crop in Humboldt County, Calif.
Humboldt County — and in particular the college town of Arcata — has become an epicenter for political and legal debate over the unintended consequences of Proposition 215, California's "Compassionate Use Act" for marijuana.
Since passage of the act in 1996, medical marijuana users have streamed into this county, a liberal and libertarian bastion that decades ago began attracting pot growers.
Bush birth control policies helped fuel Africa's baby boom
On a continent where fewer than one in five married women use modern contraception, an explosion of unplanned pregnancies is threatening to bury Adongo's family and a generation of Africans under a mountain of poverty.
Can Obama Face the 'Unspeakable'?
In this eloquent, remarkable book, longtime peace activist and theologian Jim Douglass uses Thomas Merton, a prominent Catholic monk, to elevate the study of Kennedy's presidency to a spiritual as well as physical battle with the warmongers of his time.
'When they come for us'
I wrote stories. That is what we do as we attempt to hold up a mirror in which those accorded the public's trust may see themselves stripped of veneer. And when we succeed in laying one brick on the path toward a better world we have done our duty well. We are trained to see through a dispassionate lens.
NRDC Highlights Obama's Environmental Record on Eve of Copenhagen Trip
President Obama heads to the climate summit in Copenhagen this week having already made substantial progress on environmental issues during his first year in office, according to experts at the Natural Resources Defense Council.
Wounded airman's surgery holds hope for diabetes patients
In what medical officials say is a first, the bullet-scarred pancreas from a service member who was shot in Afghanistan was flown from Walter Reed Army Medical Center in Washington to the University of Miami, where insulin-producing cells were salvaged from the organ and flown back to be dropped into the man's liver.
'You lie!' makes Yale's list of top quotes of 2009
The list is compiled by Fred Shapiro, associate librarian and lecturer in legal research at Yale Law School. His top quote: "Keep your government hands off my Medicare," by a speaker at a town hall meeting in South Carolina in July. "That struck me as embodying the friction and polarization on the role of government," Shapiro says.
Torture in Afghanistan: UK Court Orders Release of Evidence
The key to the pressure exerted by Reprieve is torture and, specifically, what the British government knew about the torture of both men while in US custody. Mohamed's case is well-known, as he was rendered to Morocco by the CIA in July 2002, three months after his capture in Pakistan, where he was reportedly subjected to torture for 18 months.
SEIU: Obama Workplace Immigration Enforcement Flawed
The Department of Homeland Security has recently decided to escalate such audits of immigration status. But the Service Employees International Union (SEIU) is pressing the department to reconsider, arguing that the audits are deeply flawed and ineffective.
What Happens When Your Country Drowns?
This is the Tuvalu Christian Church, the heart of a migrant community from what may be the first country to be rendered unlivable by global warming. Tuvalu is the fourth-smallest nation on Earth: six coral atolls and three reef islands flung across 500,000 square miles of ocean, about halfway between Australia and Hawaii.
The Bank Job
One of the biggest disconnects on Wall Street today is between the way Goldman Sachs sees itself (they're the smartest) and the way everyone else sees Goldman (they're the smartest, greediest, and most dangerous). Questioning C.E.O. Lloyd Blankfein, C.O.O. Gary Cohn, and C.F.O. David Viniar, among others, the author explores how their firm navigated the collapse of September 2008, why it has already set aside $16.7 billion for compensation this year, and which lines it's accused of crossing.